I love the mountains and I curse them. They make me happy and then again they suck the energy right out of me. But, there's something inside me that wants to concur them. Something inside me that tells me to go for it, to cross passes above 4500 meter altitude. I am the happiest person in the world once I've reached the top; yes, it's all worth it.
Punta Olimpica
After Carhuaz we turn right, straight for the Cordillera Blanca and Punta Olimpica, more than 2000 meter higher. The passed few days we have been admiring the white peaks from the sideline, now it's time to cycle amidst them. In a slow climb we leave society and the valley behind us and soon we smell the pine trees, my favorite. After the first group of hairpins, we find a great camp site in a small pine forrest at 3600 meter. The many midgies apparently also like this spot!
With a little more than 1100 altimeters to go, the next morning we continue to cycle towards the second group of hairpins, which look very frightening from a distance!
I'm not a real climber. And I'm afraid I'll never be. But, I continue. Above 4000 meter it even gets harder, but there's no stopping me. One leg at a time. Despite the dark clouds and the rain showers, the pass is lurking and there's nothing more that I want than reaching the summit. I smell the fresh mountain air, it just feels so good to be here! Surrounded by glaciers and the peaceful sound of raindrops on my jacket. When I breath, a tiny cloud forms in front of me. The higher we climb, the colder and the sun is not here at the moment to warm us. The last curve, a last glance at the impressive glaciers and then we dive into the dark (and highest) tunnel on a smoothly paved road. We glide down, one hairpin after the other, the cold air in my face, wind through my hair. This is my price for all the hard work. We stop various times to take photos. We've crossed Punta Olimpica and another amazing pass lies ahead, I can't wait!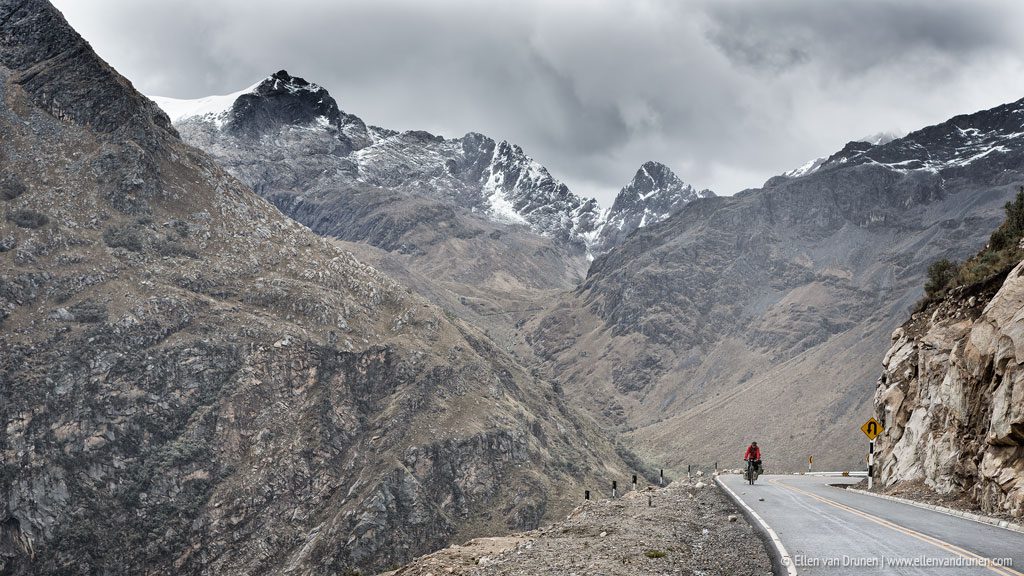 Paso Puerto Chelo
After a (forced) day of doing nothing in Yanama (rain, rain and more rain), the – for now – last high mountain pass is lying ahead of us. This time it's not a smooth ride, but rather a very bumpy, muddy and rocky one. Paul en Jan told us about a very beautiful camp spot at 4400 meter, our goal for today.
Like always the blue sky makes way for dark clouds and thunder and lightning, but this time it's no later than 1 o'clock! In an amazing speed a haze of hail comes towards us and we quickly put on our rain gear. Within seconds the sandy track turns into a muddy one and hail is hitting us in our faces. There's still 200 altimeters to go before we reach the spot, we keep going an in the early afternoon we reach one of the most beautiful camp spots ever. We just have to camp here!
And while we are listening to hail hitting our tent, we enjoy a hot cup of coffee. Slowly the clouds move away and Chopicalqui (6354 meter) shows its white peak, bathing in the last rays of sun and mirrored in the lake in front of us. Do I need to say more? This is the life…
The next morning we climb the remaining 300 meters to the 4700 meter high Paso Puerto Chelo. Once on the other side, we have the view of a lifetime: majestic Huascaran, with 6768 meter Perus highest mountain. But there's more! The so called most beautiful mountain in the world (1966) Alpamayo seems like a small one with its 5947 meter. A dozen or more hairpins are guiding us down into the valley. Bye, bye high mountains. Bye, bye unknown altitudes. No, I'm not made for the mountains and yes, I'll keep cycling them. Why? The reward is always so much greater than the fight to reach it.
Route: Huaraz – Punta Olimpica – Chacas – Yanama – Yungay