Piece of cake! How hard can it be? Ok, we might have to push our bikes for about 15 kilometers, but we've done that before! Oh and by the way, others have done it (so they say…), so I can too! A hike-a-bike route from Juta over the Chaukhi pass to Roshka, that's where we are heading!
Leaving Stepantsminda it's a fairly flat ride for the first 15 kilometers. The fierce headwind slows down our pace and as soon as we turn left into a different valley the wind dies down. Now we are facing a steep uphill to the small town of Juta at an elevation of about 2100 meters. Here the road ends abruptly and only a narrow and steep tracks continues straight up into the mountains. Is this where we have to go? I guess so…
Immediately we have to start hiking; the rocky track is narrow and with a >25% gradient unrideable for us. So we start to push our bikes, slowly… We finally reach Zeta Camp and in the grassy meadows we sit down for lunch with Georgian flatbread and Nutella chocolate paste.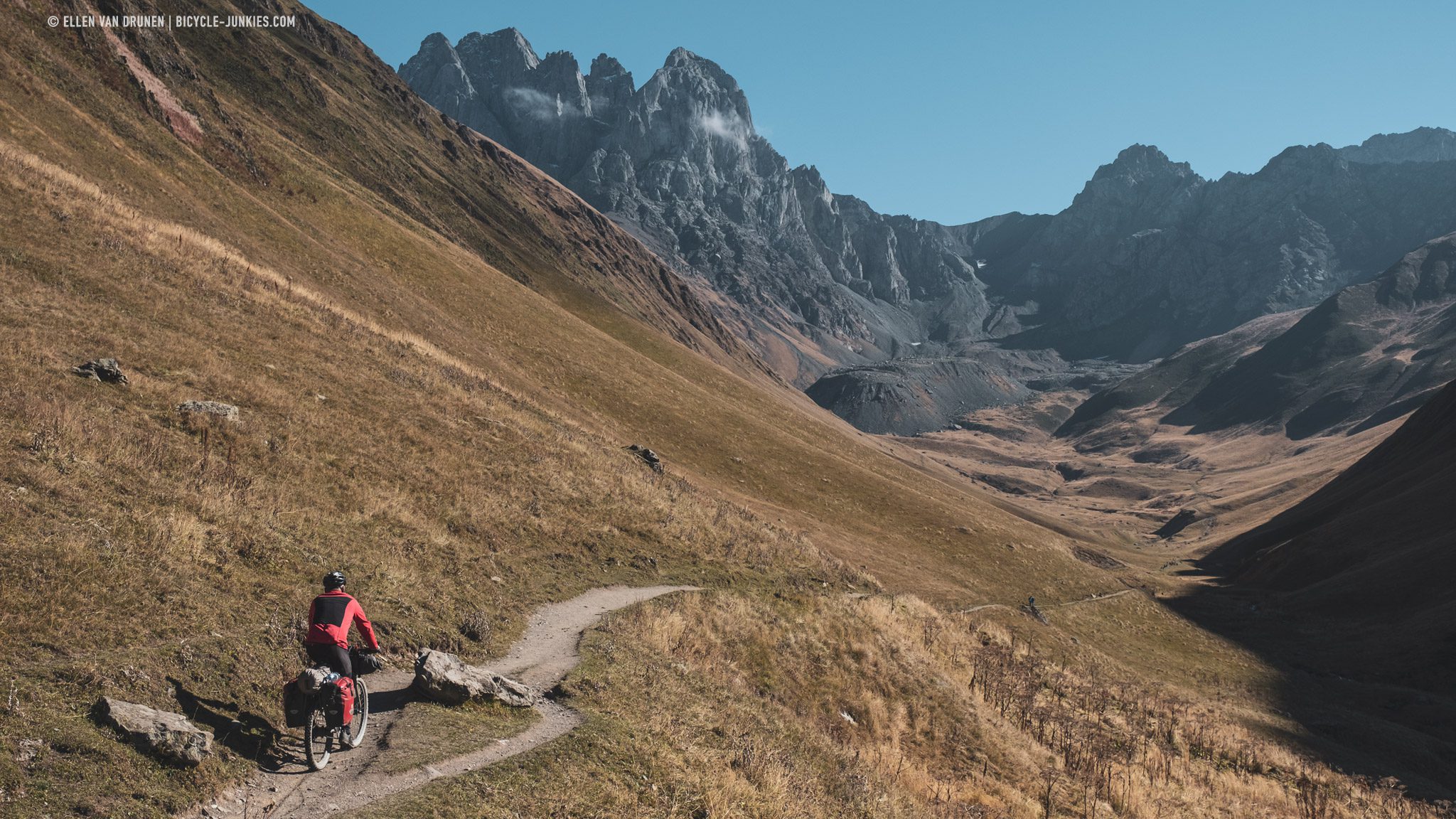 It's another steep push up to reach a small restaurant. Even though it's a beautiful sunny day, the wind is pretty cold and temperature low. We warm ourselves with tea and here we leave most of the hikers behind as we continue up. The track levels and we can ride our bikes for a couple of hunderd meters, before rocks take over and cycling is impossible again. At times it takes the two of us to push one bike up the hill, it's hard work!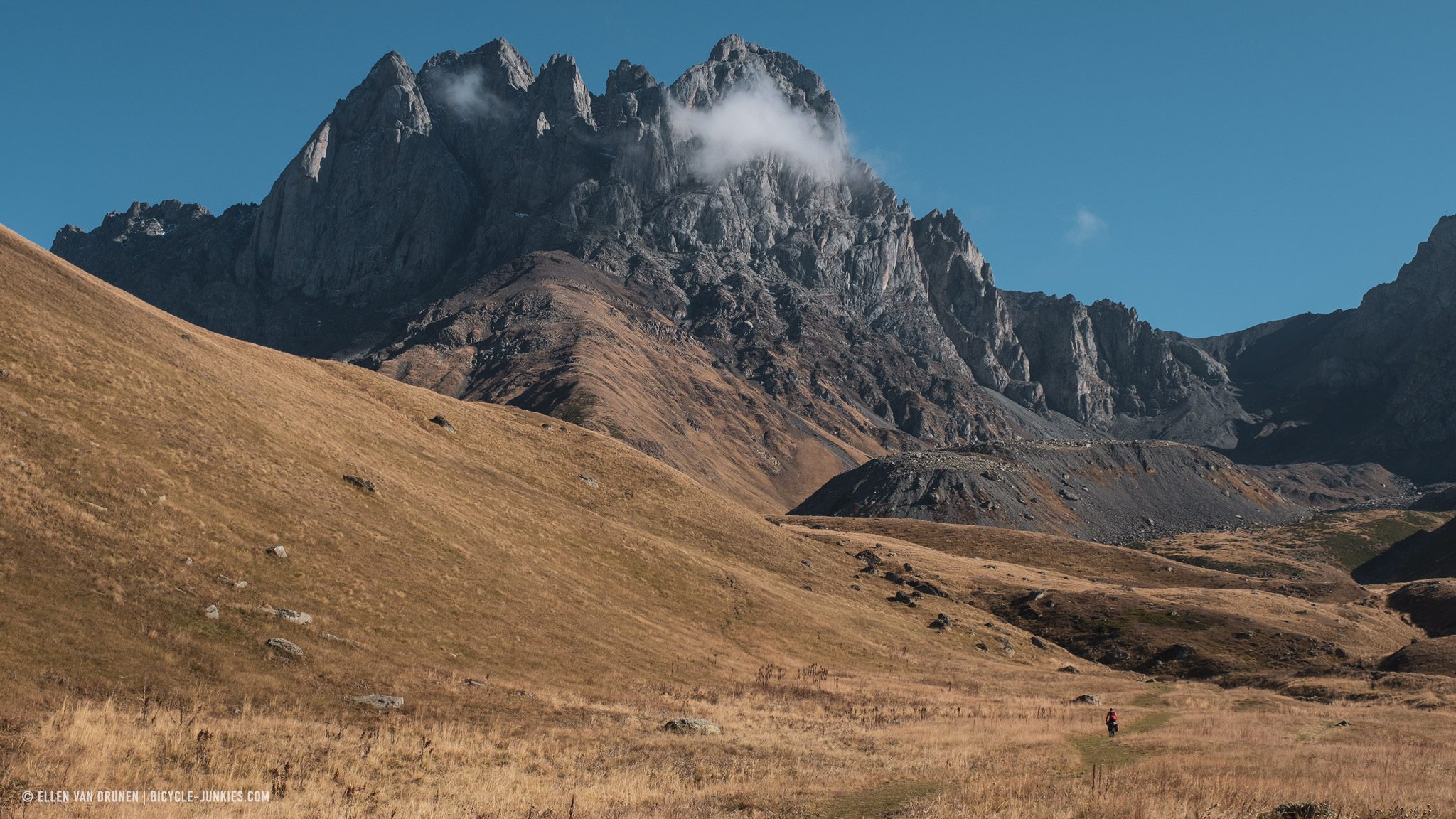 In the late afternoon we might have hiked no more than 3 kilometers, we have reached an elevation of 2550 meters and decide to pitch our tent here. The sun is already hiding behind the massive mountains and temperature has quickly dropped to minus 1 degrees Celsius. This is going to be a cold night…
It's cold. It's freezing cold. I want to go outside and take pictures of the million stars and the clear sight of the milkyway, but one quick pee moment makes me decide to go right back into my sleeping bag. It's -8 degrees Celsius, I'm wearing all the clothes I brought on this trip, but I'm still shivering in my summer bag… It's a necessity to cuddle up and spoon the whole night, how romantic! 😉
The night is long and I can't wait for the sun to rise, but since we are surrounded by steep mountains it takes quite a while.
Today it's no different, absolutely no way we can ride our bikes. The track is very narrow what makes pushing our bikes difficult too. But, the area is amazingly beautiful! We are alone here and the views are breathtaking. We keep pushing and slowly we go higher and higher.
Our progress is super slow, we maybe make 100 altimeters an hour, if we are lucky! The will to continue and to reach the pass makes us go further and further. But the track is getting steeper and steeper and right after lunch a monster climb straight up blocks our path. I estimate at least 30% gradient, even pushing one bike at a time is hard work now. We are getting more and more tired and faith in reaching the pass today fades away with every step… We had to climb this part 4 times to get both our bikes and the 4 rear panniers to the plateau… time is ticking away too.
We are exhausted… we are now at an elevation of 3050m, 300 meters below the top. We can see it, zigzagging it's way up on a very narrow track. It's too steep.. Looking at the track, we figure we have to hike up and down again at least 4 times and that's just not gonna happen today. So, now what? Camp here, for another freezing night? Probably even colder at this altitude? This sucks big time.. we are going back and forth; continue or go back. Another freezing night is no option. But really, are we failing again?!?! It's disappointing and I feel like a loser… A couple of hikers that have recently walked by are now hiking to the top. We watch them go higher and higher in a very slow pace. They stop every 10 meters or so and this convinces us that it's not doable for us today. Which means, we have to return to Juta… I feel sad, but again, it's a wise decision.
On the way down, I feel pride returning. Unbelievable what we have hiked today! Even going down is such hard work, it is so incredibly steep and narrow! How the hell have we come this far? It's official, we ARE a bit crazy!! And tough! Good feelings take over and we can enjoy the landscape again, the small rivers we have to cross and the steep mountain tracks. Trying to hike-our-bike over the Chaukhi pass has been a hell of an adventure! And who knows, we might return someday and try again.. after all, we are just crazy.