After the rolling hills we are looking at the first long climb, the Bealach na Ba pass towards Applecross. With 626 meter the highest pass in Scotland. What? No more than 626 meter? That's nothing! Well, in 9 kilometers and with 20%+ grades it's a killer!
After Tornapress we turn left and follow the single-track towards the pass, cycling by a river which leads to Loch Kishorn. So far, so good. Grade is ok and I'm thinking what is all the fuss about? I'm right behind Elmar, sun is shining and there's a pleasent breeze. The bicycle feels good, I feel good, my legs feel strong, this Bealach na Ba is a piece of cake! We stop every now and then to take some pictures of the amazing landscape and in a nice rithm we keep climbing. After about three kilometers I have to shift gears, I feel it's getting steeper.., but not to worry, I have some gears left!
Then it happens, like I'm hitting a wall! No more gears left and I'm having difficulties to keep pedaling and my odometer isn't working anymore since I'm going soooo slow! No more breeze either and wiht 30 degrees (amazing!) I feel drops of sweat falling on my cheecks. There's a traffic jam forming behind me, but the cars and RV's are not in a hurry and watch me work myself to pieces.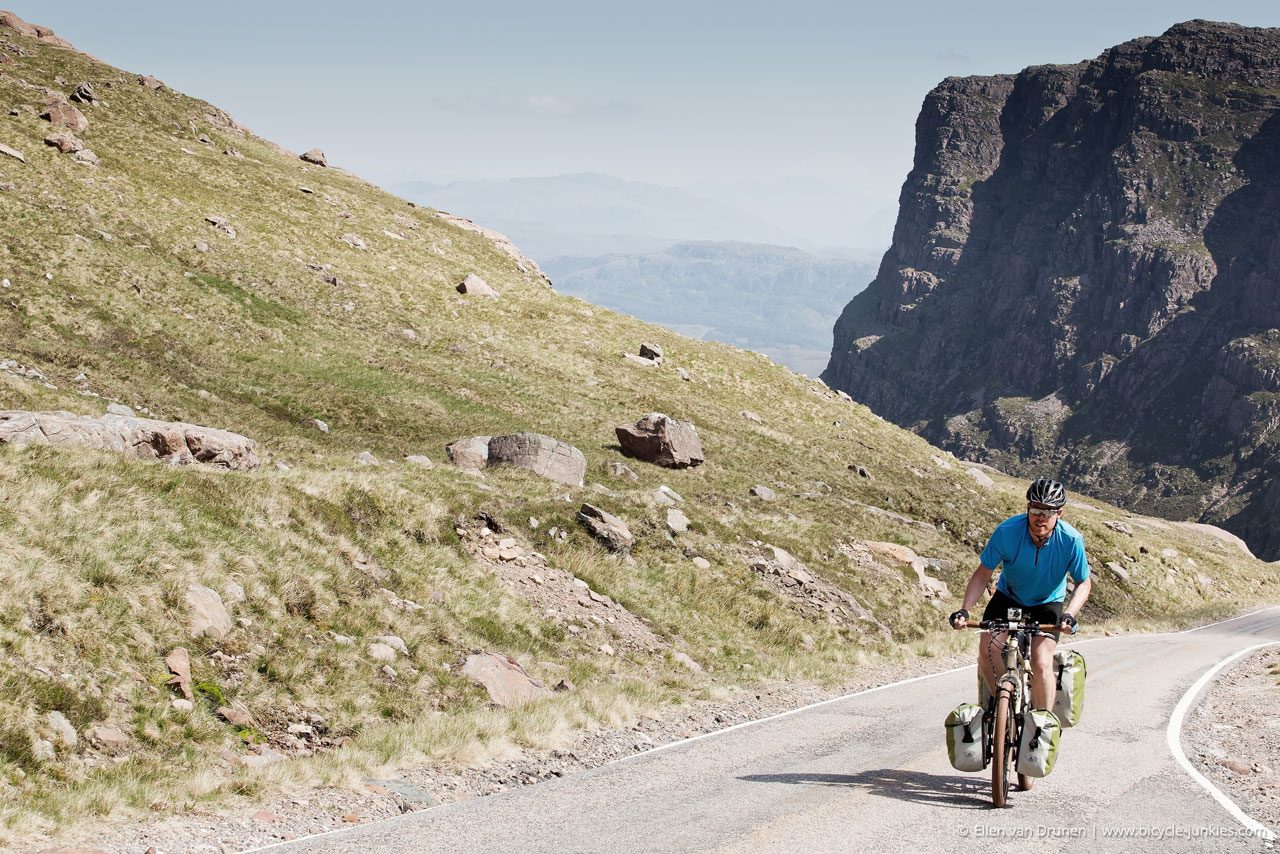 Elmar has left the building, he can smell the top and has a mission to overtake that racing cyclist ahead of us (and he succeeds… poor guy!). I take a few deep breaths and start pedaling again, it's very, very steep and it's hard to start going.. It doesn't look so steep! My mind is playing tricks with me. Slowly I'm making some progress and I reach the hairpins, which means the top is getting closer now. And I kind of like hairpins, because usually you can 'rest' a bit in the curves where it's less steep and I'm right, my speed is increasing and I'm picking up a rithm again. Wow, the top! That was one steep motherfucker with 21,9%! 😉
Hebrides and the Cairngorms
We cycle along the coastal lines of the Hebrides and hop islands. The scenery is exactly what we like: there's nothing! After a couple of days of rolling hills, we turn East towards the Cairngorms.