It's time to leave our bicycles behind for a day to climb an active vulcano near Pucon: Vulcan Villarrica. In a minivan we drive to the base of the vulcano where we can see the sunrise. Clouds are hanging in the valley like a thick blanket and slowly the group is walking up through deep, black sand.
No more than 2847 meters high, but for me it feels like I'm climbing Mount Everest! We started this morning at 1400 meter and the last 600 meters are on ice, so we need crampons and ice picks to prevend us from sliding down the 45 degrees slope! I feel a bit wobbly with these crampons and I can already feel my calf muscles protesting. And because our own hiking boots aren't fit to use crampons, we are hiking on hired boots, well, you can imagine the blisters…
Did we start the morning with a huge group, now walking on the ice, only a handful of daredevils are left. Because of the strong winds and the toxic gasses we need to wait a bit, before we continue the last few meters up. The smell is horible, the fumes make my throat hurt and my eyes sting, but reaching the summit and looking down into the crater is well worth the attack on my health! We have an amazing view from the top, with multiple vulcanoes dotting the horizon and lavastreams running down the slopes reaching deep blue lakes. Villarrica is the most active vulcano in South America, but luckily for us, today it's quiet.. 😉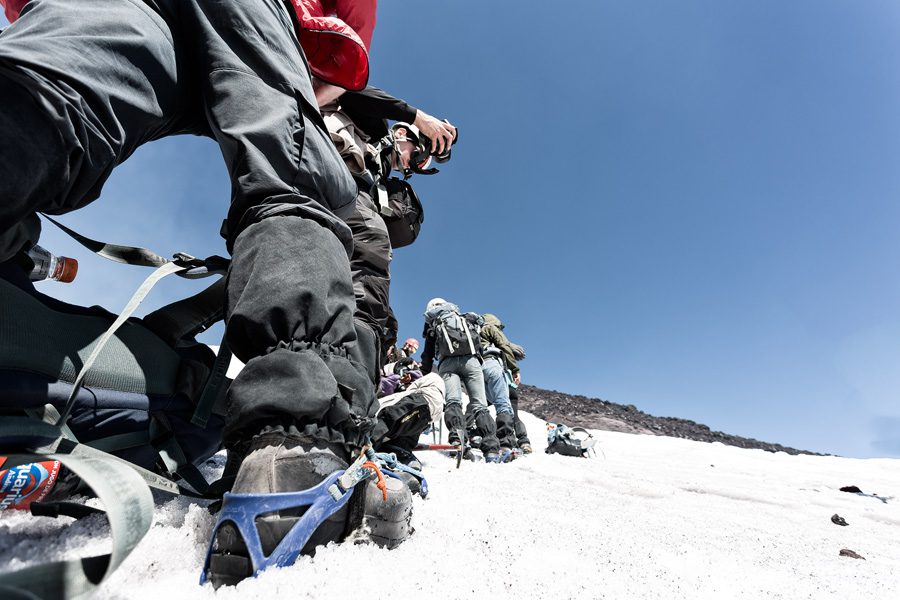 What goes up, must come down! We carried special clothing in our back-packs to slide down the slopes: a mini-sledge to put between your legs and the ice-pick for steering and breaking. 600 meters down! At first it really looks scary, but peer pressure is such a strong thing.., so we jump into the abyss, sliding down at high velocity! It's amazing! The first slide we both use the ice pick a lot, but the second and the third the adrenaline really takes over and we jump and slide and eat snow! With a smile from ear to ear, again, again, again! Like a child we jump up and down and almost cry when we finally hit the black lava sand again. That was a awesome!
Danger zone: you are in a volcanic active area!
Vulcan Llaima is a picture perfect one: a cone shaped mountain topped with snow and solidified lava rivers down the slopes. The path we cycle on is pitch black lava sand and apart from a few bushes, there's not much growing here. It's a moonscape, probably even more so after the 2008 eruption. After 15 kilometers we are out of the danger zone and cycle to a fresh green forrest with huge trees and a few small lakes with dead trees in it. It is here that parts of the BBC documentary 'Walking with Dinosaurs' was filmed and we can see why!
After climbing 900 meters we reach the pass at 1350 meter with still a bit of snow on the track here and there. On the other side of the pass we drop down leaving this small but very beautiful national park.
4×4 dirt tracks
Looking at our map, we see a thin grey line from Lonquimay naar Ralco.That looks really nice! We shop for food for a couple of days and in thick mist we leave Lonquimay to cycle a 10 km rollercoaster on a sandy dirt track; it's already hard work, but how little did we know…
We follow the Rio Bio Bio to Troyo, where we find an 'almacen' (mini-super). We have to ring a bell for service and a woman comes running out of one of the nearby houses. She is out of bread, but, no worries, she'll just bake some for us. We wait a couple of minutes for the fresh, warm and oily bread and flush them down with Coca Cola; really tasty and enough energy for the next part. And energy we needed…
Not far from Troyo we stumble across an intersection: the left one looks really good and the right one really bad. Guess which one we took? Right, the bad one! The track dissapears in a narrow and dark tunnel, just wide enough for one car or a world cyclist. 😉 After the tunnel the road ends at a closed gate; nothing is coming through here! We look around for a while, but no house, no people, nothing. There's a small opening for pedestrians and we decide to push our bikes through to continue on this (apparently) private land.
Wow, this is a tough one! The track is narrow, full with rocks and deep pits and very, very steep; and I mean like 20% and sometimes even 25%. No way we can cycle here! It's pushing time once again. The steepest parts we have to push one bicycle at a time with the two of us. It takes hours before we reach the pass, going down is no picknick either with those loose rocks and steep slopes. After 8 hours of hard labour, our odometer reads 15km! Wow! But, we find a grassy area to pitch our tent, next to a stream. Very tired we hit the sack as soon as the sun sets, we'll see what tomorrow will bring us.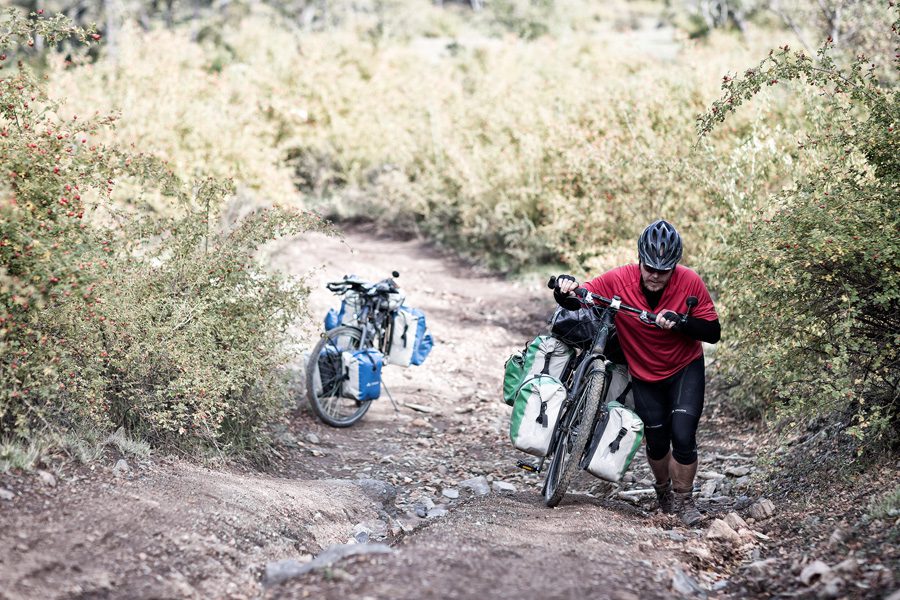 A good start: 1,5 kilometers of slowly downhill cycling.. which ends at a river. At least 50 meter wide, but not so deep, so crossable! We exchange our shoes for our Crocs and push our gear through the icy cold waters. By the time I reach the other side, I can't feel my feet anymore! OMG, that was cold! Another steep hill and finally we hit a normal road and the ripio improves, we jump on our Santos bikes and cycle the last few kilometers to the thermal baths of Avellano, where we are allowed to camp and soak our tired bodys in hot and healing waters…