It's amazing how friendly strangers are… The wind is once again our enemy in this part of the world and with no more than 6 kilometers per hour we are battling against it, while dark clouds are closing in. A car stops and a well dressed woman walks towards us, she introduces herself as Vivina and invites us to stay at her estancia.
That's one friendly gesture we are happy to accept. Vivina takes us to her ranch and we are given our own little cottage with a great view on the surrounding landscape of Tierra del Fuego. We can see their cows and horses nearby grazing around the houses. We take a hot shower and are introduced to the rest of the family, while drinking freshly made mint tea accompanied by medialunas (croissants). After a good night sleep, we have breakfast with Vivina and half the morning we chat about life on the estancia and before we leave her daughter Iris shows us the horses' manicure and we get to play with the border collies. We thank the family for their hospitality and set out through the deserted Tierra del Fuego to cross the border into Chile.
Crossing into Chile
Most cyclists cross into Chile through the San Sebastion border, but that's busy, boring and we want a little more adventure. The 70km offroading to Radman it is! When we arrive at the Argentinan customs late in the afternoon, we are the first people that day to cross the border! The border consists of a river to wade through, there's no road. The official directs us to the best part to cross by foot and we walk up and down a few (6!!) times to bring all our stuff across. The water is freezing! I have to walk a few hunderd meters to let the blood circulate through my toes again…
At the Chilean customs we have to wake the officials, I guess they didn't expact any cyclists today… or anybody for that matter. With a new stamp we continue through nomansland, we see foxes, birds and guanacos and that night we find an amazingly soft mossy part to pitch our tent.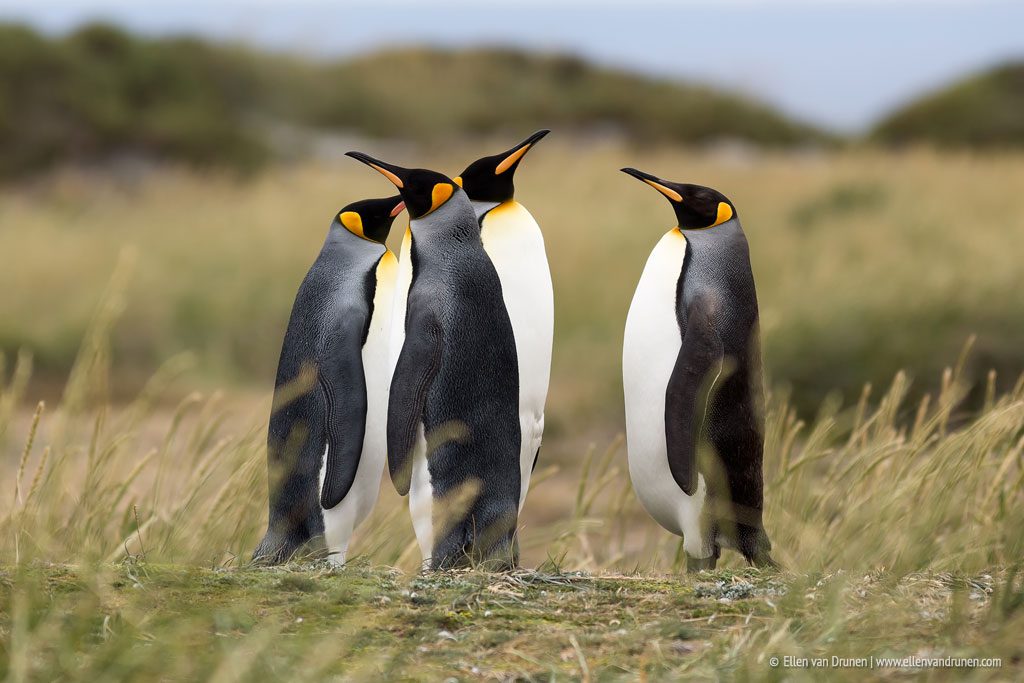 La Pinguïnera
It's already 8 o'clock in the evening when we finally reach the Penguin ranch 15 km South of Onasin and a sign at the gate states it closes at 6pm.. darn… luckily for us there's a caretaker and he lets us in. We have to pay quite some money, but we get to camp very close to the King Penguins! Before we put up our tent, we walk to the small stream that seperates us from these super beautiful and funny animals. They make quite a noise!
It's getting cold, so we set up our tent, chat with some other cyclists and hikers and have dinner. Once warm in our sleeping bags we can still hear them 'chatting' to each other. What a great place to camp!