Wow, Patagonia is something else! We visit Peninsula Valdes and see whales, penguins, sea lions and the endless, and I mean, endless pampa's! We decide not to continue on Ruta 3 all the way down and head inland on Ruta 25 to Ruta 40. Apart from the wind, it was a wise decison.
On our way to Peninsula Valdes
We didn't fancy cycling out of Buenos Aires, so we hop on a bus to Bahia Blanca. Our bicycles were send a day early and are waiting for us at the depot, so everything works out fine. We are on Ruta 3 and going South on endlessly long and straight roads with pampas as far as the nakes eye can see and huge spiders crossing the road. It's hot and we're cycling in 40 degrees Celsius, there's no way we can quench our thirst, even liters of hot water won't help. And we carry a lot, since the distances between water points are quite large and still it's not enough… a truck driver is happy to help us with a couple of liters of water and we can camp and cook by the side of the road under a million stars.
In Puerto Madryn we take a tour around Peninsula Valdes island, which is kind of expansive and disappointing; we rush over the island, rarely stop to take pictures of wildlife, we are not allowed to get close to the animals (which used to be possible when I was here like 12 years ago), so the sea lions are a few grey dots at the horizon and the tour ends with us and a bunch of other people stuffed in a boat like sardines. We have to take turns to stand up and see the whales! To make it worse, the sea is a bit rough, so within 15 minutes half of the people is hanging overboard… The positive side about that is, that we can finally see the whales a bit closer! No, the expected wow-effect is not to be experienced. It's probably better when you have your own wheels, but anything is better with your own wheels! 🙂
Ruta 25
Because Ruta 3 is getting a bit boring with its long straight stretches of nothing, we decide to take Ruta 25 inland and hop on the infamous Ruta 40 to go South. That's the beauty of our way of traveling, we are free to decide where and when we are going. 😉 It's pretty easy to find camp spots, as long as it's behind a hill or in a ditch, thus out of the wind. It's a nice route, with red rocks and blue skies. Often we camp at gas stations and have a free shower and coffee. We take an offroad cutoff to reach the Ruta 40 and climb to 1200 meters, it's a really nice road to cycle and then…, then we finally reach Ruta 40. The infamous and windy road… and that it's windy, we will soon find out!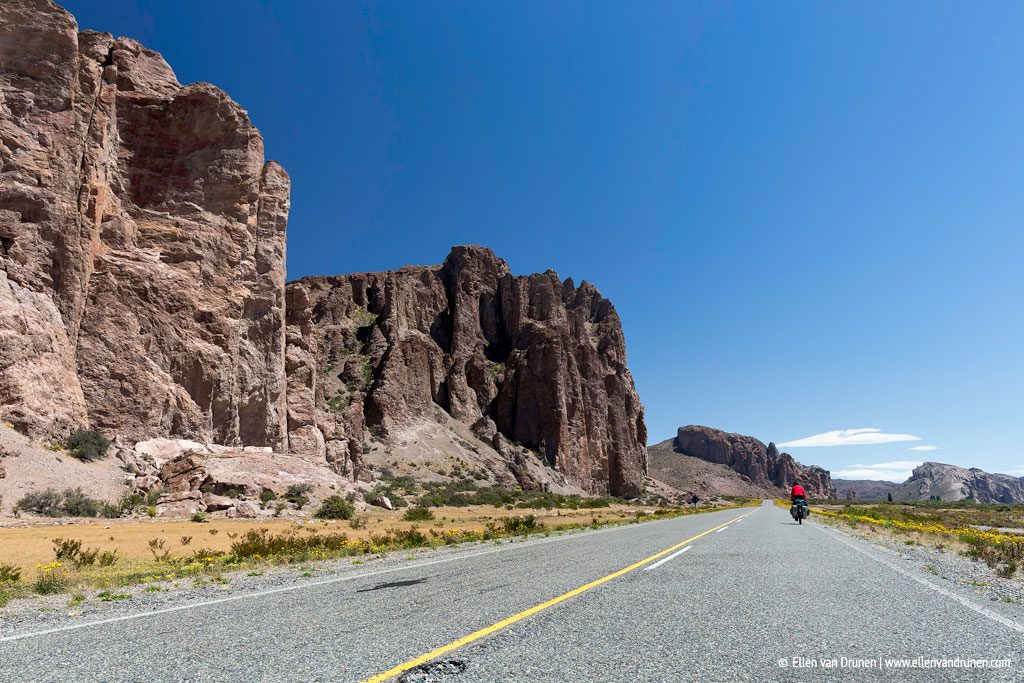 Ruta 40
When we leave the town of Gobernador Costa, we have tailwinds for a change and we are literally flying! With an average speed of 30km an hour we end the day with 186 km on our odometer; our longest day ever on a fully loaded bicycle. But, then the road makes a turn for the worst… right in the face! Hello Ruta 40! We pitch our tent next to a tree  by the river, but the wind is so strong it nearly rips our Hilleberg apart! Quickly we move it a bit more out of the wind, but that night it's keeping us out of our sleep. Man, this would be a 'code red' in the Netherlands, it's a storm!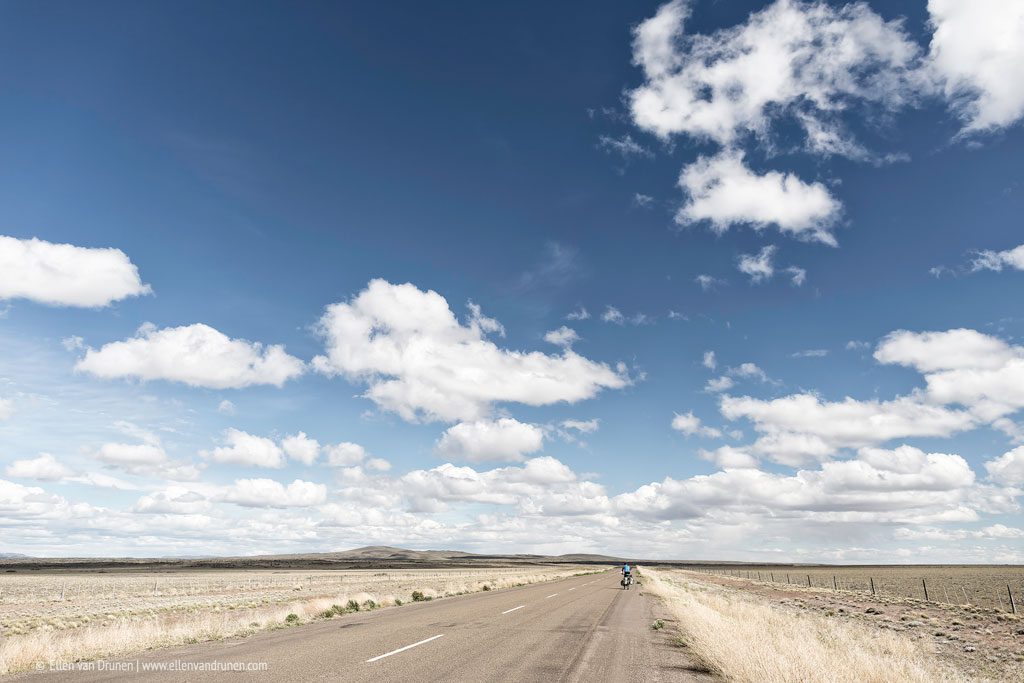 Against the wind..
I wake up to the sounds of 'Running against the wind' by Bob Seger, I kind of like the song. The wind is already howling around our tent and we pack our stuff for another battle. Three tough cycling hours later we have managed to cover 15 kilometers and are whacked of our bicycles a couple of times.. this is crazy! The next water point is about 180 km away from here, doesn't look like we are gonna make it… We decide to go back and give it another try tomorrow. Within half an hour we are back at the campsite where we started this morning! I could just feel the wind pushing me uphill at a speed of 45km per hour, without me pedalling! So, you can imagine how strong the Patagonian winds are… I'll never complain about a Dutch breeze again…
The next morning we get up even earlier to give it another try and yes, we are faster: within 1 hour we reach the point where we ended yesterday, but it's like God just pushed a button, thinking: "ok, it's 8AM, let's start blowing!" Again we find ourselves more being blown in the ditches than actually being on the road. A truck passes, I look at Elmar and he nods… please give us a ride?
Four road workers jump out to help us; to the rescue! They offer us a ride 20 km further to their camp, well, it's better than nothing and it gives a bit of a boost to our spirit and it might sound like a short distance, but with our average speed in this windy weather, this means 5 or 6 cycling hours! In the hanger they give us a hot cup of coffee and we take pictures with them, very friendly guys! Outside the storm is still raging and it's tough to leave the comfort, but we have to keep going. And you know, actually we are enjoying ourselves… When I look at Elmar being swept all over the place, I can't help it, but I'm laughing out loud! Look at us, are we crazy or what?
Camping is a challenge, but we manage to always find a ditch or a hill, a little out of the wind. Look at us, almost 40 years young and finally we end up sleeping in a ditch!